Parsley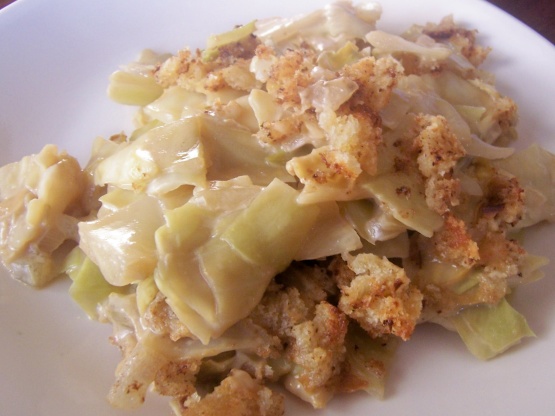 I adapted this recipe from a dish I tried in Savannah, Georgia. Even my kids (who declare that they hate cabbage) asked for more! One of our favorites!

I liked this too. I made almost like you instructed. I didn't have enough cabbage so I added some broccoli. The sauce was a nice blen. Although, it was a little salty. I think I will put in a little less soy sauce and Worcestershire sauce next time. I will be making this again. Thanks for hte recipe.:)
In a saucepan, combine cabbage, water, and salt.
Boil, covered, for 5 minutes. Drain.
Combine soup, soy sauce, Worcestershire sauce, milk, and onion in a 1 1/2 quart baking dish and mix well.
Melt butter in small dish.
Add breadcrumbs and stir.
Sprinkle over cabbage mixture.
Bake at 350 degrees for 45 minutes or until browned and bubbly.