Sauteed Zucchini With Sun-Dried Tomatoes
tomanshirl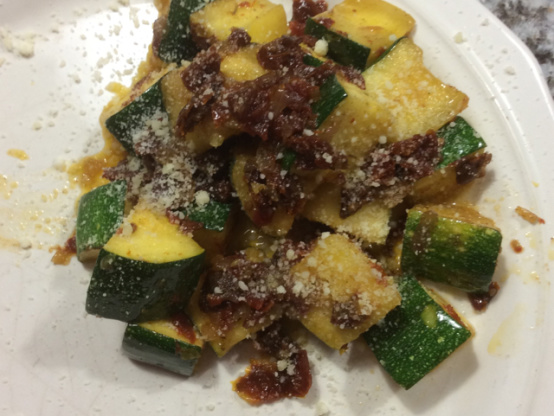 A great side dish to pair up with beef, chicken or fish. Love the flavors in this dish - simple but full of flavor. I did add a clove of garlic to the original recipe just because I thought it would really give it a great background flavor. Tried and posted for ZWT7.

Just picked up some locally grown zucchini, and this recipe called my name! Very interesting contrast with the sun dried tomatoes. This was greatly enjoyed, and I'll make it again. Thanks for sharing! Made for ZWT.
Wash the zucchini using a brush to gently scrub the zucchini and then pat dry with a kitchen towel. Cut off the stems and cut each zucchini in 3 or 4 pieces; then cut each piece lengthwise into 6 wedges. Set to the side.
Chop the dried tomatoes and set to the side.
In a large sauté pan, over medium heat, place 4 tablespoons of oil and the diced onion. Cook over a medium heat until the sliced onions are translucent, for about 4 minutes, stirring occasionally.
Add the minced garlic and sauté an additional 1 minute.
Add the dried tomato and sauté for additional 2 minutes.
Add the zucchini, salt and pepper to taste, then cover with a tight lid and simmer for additional 5 minutes or until tender but firm.
Using a slatted spoon transfer the zucchini into a large dish and serve while hot.