Sauteed Zucchini, Cherry Tomatoes, Olives and Basil
PaulaG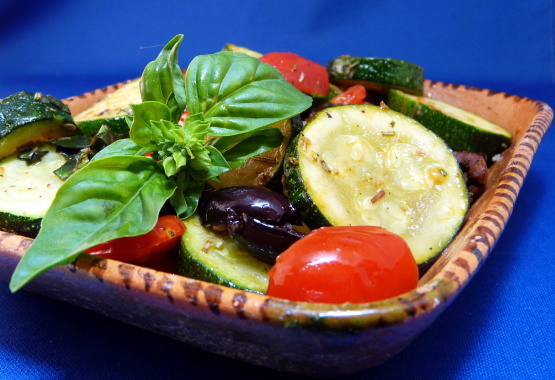 Great way to use those fresh garden vegetables. Courtesy of September 2007 issue of Bon Appetit.

This is a lovely vegie dish that has been included in my regular repertoire. I seasoned with Goya Adobo all purpose seasoning. (it is one of my favorite seasonings that "take care of" when you want more flavor in your dish and want to use it instead of salt). My family loved it as well.
Heat oil in large skilled over medium-high heat.
Add zucchini, garlic, and rosemary.
Sprinkle with salt and pepper.
Saute until zucchini is just tender, about 5 minutes.
Add tomatoes and olives.
Saute until tomatoes just begin to soften, about 2 minutes.
Mix in basil and vinegar.
Season vegetables to taste with salt and pepper.