Sauteed Zucchini and Fettuccine
Thorsten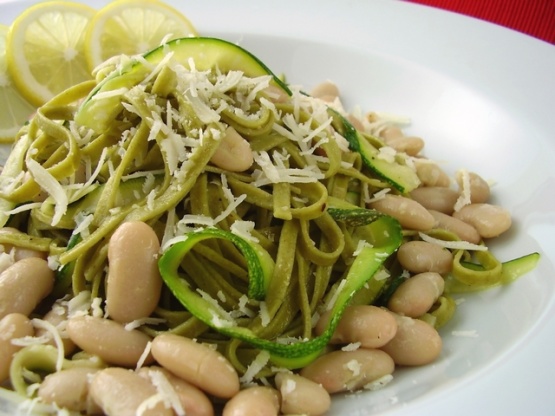 This is a modified version of a recipe in Family Circle Magazine. The original recipe calls for 1/2 cup of pine nuts. I don't care for them so I used a can of cannellini beans instead. I also added a little more cheese than the original recipe.
Top Review by Ilysse
Loved this simple dish. I doubled everything and used whole wheat yolkless egg noodles. I used a veggie peeler to cut the zucchini into ribbons. I didn't saute the zucchini since I don't have a large pan. I tossed them in the water with the pasta the last few moments of cooking. I did put the beans, garlic, oil, and lemon juice in a pan and simmered gently while the pasta cooked. I think next time I will saute some onion and add it to the mix as it seemed like it needed just a little something else. Great recipe tho, and I'll be making it again as the kids LOVED it. Thanks for posting.
Cook the fettuccine according to the package directions, drain and place in a large serving bowl.
Heat 2 tbs. of olive oil in a large skillet.
Add garlic and zucchini to hot oil and saute for 1 minute.
Stir zucchini into pasta along with beans,lemon juice and remaining olive oil.
Salt and pepper to taste.
Sprinkle with parmesan.