Sauteed Zucchini and Arugula
ChefLee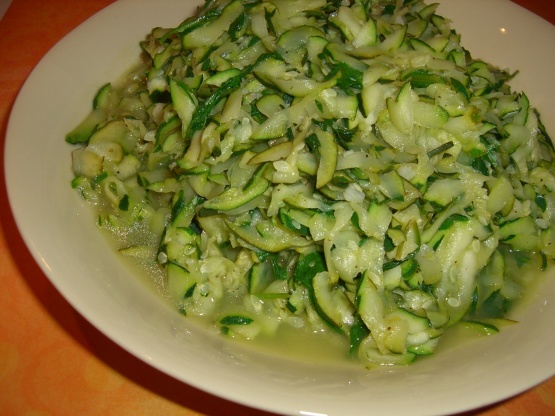 Zesty, with a pleasant tang.
This is just delicious! The contrast of the zucchini and the arugula is indescribable. The zucchini maintains its unique flavor, while the arugula takes on the lemony aura. I did make a couple of changes since I am unfamiliar with zucchini. I sliced it very thin into rounds and sautéed it to death with the garlic in butter until it was quite limp. Then I added the arugula until wilted and added salt, pepper, lemon zest and lemon juice. Keeper! Thanks for posting.
Place the zucchini in a dry dish towel and wring out all the excess moisture; dry the squash carefully with a dry towel.
In a medium pan over medium heat, melt the butter; add in the zucchini; stir for 2 minutes.
Add in the arugula and continue stirring for another minute or two.
Add in the garlic, lemon zest, lemon juice, salt, and pepper; stir until combined.
Taste for seasoning and adjust; serve immediately.