Sauteed Veal Scallops in a Wild Mushroom Cream Sauce
Sageca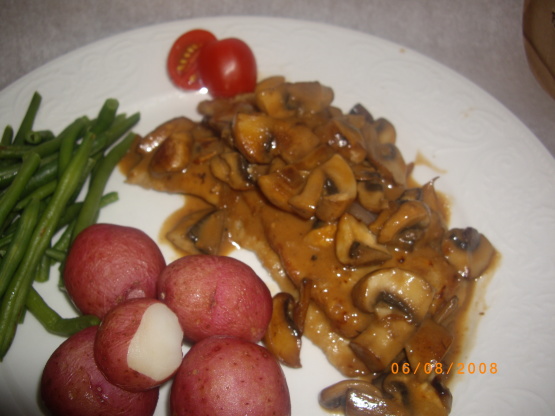 This dish is quite elegant and you can substitute the veal with boneless skinless chicken breasts.

I had eveything on hand except for demi-glaze, I also had to sub red wine for white because it's all I had, other than that, followed the directions... This dish was truly amazing, my husband and I both agreed it was restaurant quality; I served it with sauted rapini and garlic, and some crusty garlic bread, it was a sensational dish that I can't wait to make again :)
MAKE THE SAUCE: In a saute pan set over moderately high flame, heat the oil and butter until hot. Add the shallots and cook, stirring, 1 minute.
Add the mushrooms, thyme and salt and pepper and cook, stirring occasionally, for 5 minutes, or until mushrooms are soft.
Add the garlic and cook, stirring, 1 minute. Add the wine and reduce by half. Add the demiglace and simmer 5 minutes.
Add the cream and reduce until lightly thickened. Cover with a round of buttered wax paper and keep hot.
MAKE THE VEAL: Dredge the veal scallops in flour, shaking off excess, and season with salt and pepper.
In large skillet set over moderate flame, heat olive oil and butter until hot. Add scallops and saute for 1 minute on each side.
Transfer to sauce for just a minute and season mixture with fresh lemon juice and Chervil.