Sauteed Shrimp With Lemon Caper Cream Sauce on Angel Hair Pasta
Nimz1466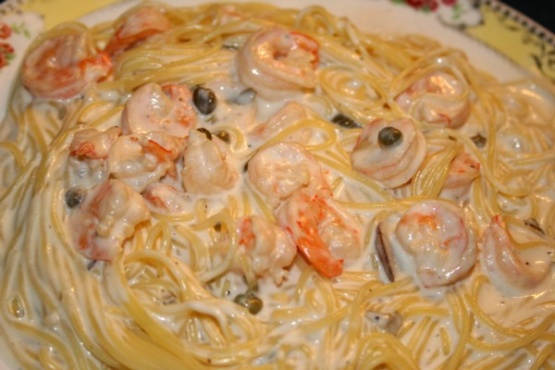 I got this recipe from the Olive Garden website. I'm not a big fan of capers, so they were omitted, but I didn't want to change the original ingredient list. This stuff is incredible! You may be tempted to try a different type of pasta, but I believe to achieve the proper delicate nature of this dish, you need to use the specified angel hair pasta.

Again, this came to me from community when I asked for non-tomato pasta sauces. Wonderful. I had no leftovers & made it exactly as described. This will be on my "keeper" list & I will share it with several friends! Thanks to all who suggested it to me on Community. It was to die for! Cathy
Saute the shrimp in the olive oil for 2 minutes.
Add the garlic and capers and saute for 30 seconds more.
Add the white wine (or water) and lemon juice and simmer until sauce is reduced by 1/2.
Add the cream and simmer until sauce is reduced by 1/3.
Season with salt and pepper to taste.
If desired, add fresh or dried parsley.
Pour sauce over pasta, and enjoy!