3 Reviews
Most Helpful
Newest
Highest Rating
Very easy and so delicious. Thanks for a great dinner!

Wow! The ingredients in this came together to make a fantastic dish!! I skipped the feta and added a few extra capers. Thanks! Made for ZWT 7 (The Hot Pink Ladies)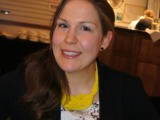 Yumm, this is very tasty. It got a "this is yummy" and "I like the pine nuts" from the hubs, so that's 5 stars in my book. I used all the ingredients (except the feta) and cooked them in the order you stated, but I took some liberties with the proportions as the recipe only serves one. Made for the April 09 veg swap.
Sauteed Lentils and Spinach over Polenta