Sauteed Green Beans and Red Onion
loof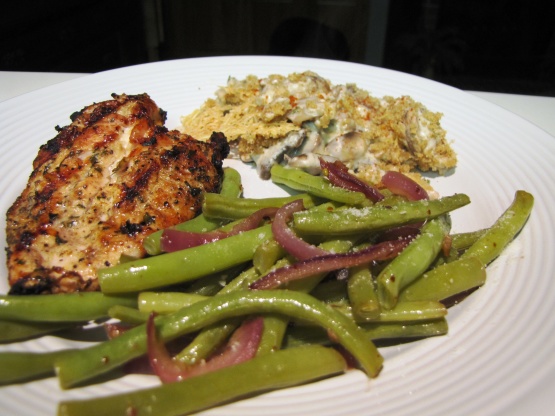 Woman's World 5/9/00. Let a touch of garlic, a dash of crushed red pepper and a sprinkling of Parmesan cheese show you just how good green beans can be.
I just finished cooking these and had to sneak one before they were served, and they were good!!! I used granulated garlic instead of cloves because I didn't want to bite down on a garlic slice, and apple cider vinegar instead of red wine. The vinegar gave it a wonderful kick... perfect side dish for meatloaf!
In large skillet heat 1 t. oil over medium heat. Add garlic and pepper flakes; cook, stirring occasionally, until garlic softenes, about 4 minutes.
Add beans, onion, vinegar, salt and 1 T. oil. Cover; reduce heat to medium-low. Cook until green beans and onion soften, 6-7 minutes.
Remove from heat; transfer to serving bowl. Sprinkle with cheese.