Prep 15 mins
Cook 15 mins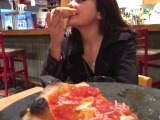 This is a Thanksgiving inspired recipe. I was trying to round out my menu last year and needed something green besides salad that would be enjoyed by all ages. Here it is, there was nothing left! Fresh herbs like oregano, basil, or thyme can be tossed with the cheese just before serving to add a different taste.
Directions
Heat a large saute pan and add the oil and butter.
When hot, add the green beans and garlic and season generously with salt and pepper.
Toss occasionally and cook until almost tender but still a bit crisp, over medium heat.
Place in a warm dish and grate the cheese over the beans just before serving.
Reviews
Most Helpful
This is a great way to make green beans, totally different than the traditional boiled. We love them. Easy too! Thanks for posting.

Loved these! Green beans and parmesan go together so well! I will make these again!
Very good and easy to make. I followed the recipe as written other then I cut it in half for my family. I did keep the amount of cheese the same as we love cheese.