Sauteed Garlic Glazed Green Beans
Bergy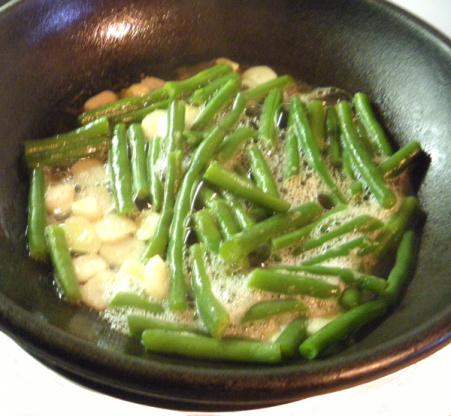 This recipe came from a gal I used to work with. It is amazing how good something so simple is!

These beans are not only good, but OUTSTANDING! I use Haricot Vert and the celophane package they came in said:"ready to microwave", after piercing a few times. I did just that. For 3 min. in a 1250 Watt microwave. Then proceded with the recipe.Just before serving I drizzled with a little good balsamic vinegar. Thanks for haring.
BTW, you might want to change the part about adding STOCK in the instructions, since you mean for us to add the granules! Glad I had asked you about this previously. :-)
Parboil green beans in water, uncovered until medium tender.
Heat a wok or deep frying pan on medium-high heat; add about 3 tablespoons oil, green beans, garlic and chicken bouillon granules (no need to add any water).
Let simmer for 5 to 7 minutes. Enjoy!
(Note: cook time does not include parboil time).