Kiwiwife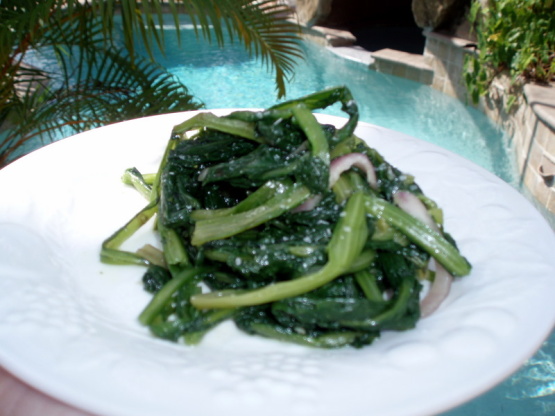 I was SO excited to find fresh dandelions at my farmers market today. If you can get your hands on some, this is a delicious way to cook them! The greens are the dandelion stems.

Great recipe, I am Italian and we have eaten dandelions since I can remember, but I have gotten some serious looks when I say we eat weeds. My mother and grandmother alway picked them when they first came up and they were nice and tender and then you don't even have to blanche them. Also the little ones are very good as a salad with a simple vinegar and oil dressing. Thanks again for posting this delicious recipe.
Cut stems and soak greens in sink full of water. Agiate, drain and repeat to make sure all sand is removed. Chop roughly.
Place in salted boiling water and blanch for 4-5 minutes.
Meanwhile, add oil in fry pan on medium heat add garlic and onion and red pepper flakes and heat till onions are soft and garlic fragrant.
Add blanched stems to oil and toss. Saute until tender, 10 minutes or so.