Sauteed Chicken With Cherry Tomatoes
Prep 10 mins
Cook 30 mins

Adapted from Spices of Life by Nina Simonds.The wine and shallots make this delicious. It is quick to prepare and great for people watching their calories.
Directions
Heat 12 inch skillet, Dutch oven or casserole with lid. Pour in oil and heat until quite hot. Line pan with a batch of chicken breasts and fry over high heat until golden brown on one side, about 2 1/2 to 3 minutes. Turn over and brown other side. Remove with tongs and continue browning remaining pieces. Set chicken aside.
Reduce heat to medium, put garlic and shallots in pan, and saute until fragrant, about 15 seconds. Add oregano, white wine, salt and pepper and saute uncovered about 4 to 4 1/2 minutes, shaking pan from time to time.Add tomatoes and return chicken to pan, cover and cook about 10 to 15 minutes, or until chicken is done. Taste for seasoning and adjust if necessary.
Scoop chicken out onto a platter and serve with rice or over mashed potatoes.
Most Helpful
This was divine!! Super easy to make and utterly delicious. Perfect weeknight meal; we'll definitely be making this again!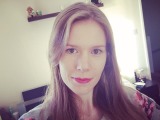 Delicious! But I made a tweak to spice it up. Added a cherry red pepper and chili pepper diced to the olive oil before browning chicken to add some heat. Otherwise I followed the receipe. Did not use shallots- didn't have. Yum!
It was pretty good. I substituted onion for shallots, and used sherry cooking wine. The sauce made for nice flavorings, and I took the suggestion of another reviewer and added a hint of crushed red pepper flakes. Kind of gave it that zing but not too spicy. For the tomatoes, I used small grape tomatoes and loved how they had that shriveled look when they were simmering under the lid. They really helped with the flavor!<br/><br/>I ended up having leftover chicken so the next night I just made more of the sauce and let the chicken reheat in the pan with the sauce while it simmered.<br/><br/>Yes, I would make this again!