Sauteed Chicken & Mushrooms
bdubst3p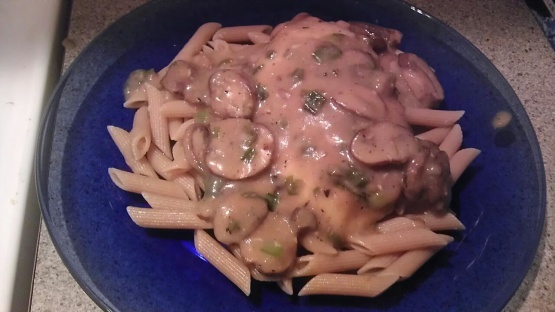 This dish is one my husband requests at least once a week. I make this for company because the look and taste seems like you cooked all day, but it only take 45 minutes to cook. You can use boneless chicken breast, tenderloins or boneless thighs and still have great results.

WOW.... oh so flavorful. The DH loved it. It had a bit of an asian flare with the mushrooms and the green onions and my DH HATES asian cuisine.... BUT he loved this chicken. Very simple. Will definitely become a regular in our house. Thanks P!
Pound each chicken breast to 1/4-inch thickness.
Mix flour, salt and pepper on wax paper.
Coat chicken well with flour mixture; set aside.
Heat a large skillet over medium-high heat; add butter.
Saute garlic, green onion and mushrooms for 3 minutes.
Remove with a slotted spoon.
Place chicken in skillet; cook for 5 minutes per side.
Add broth and soup to skillet. Cook, stirring frequently, for 5 minutes.
Return mushroom mixture to skillet and reduce heat to low.
Simmer stirring occasionally, for 5 minutes.
Serve immediately over egg noodles.