Sauteed Chicken Breasts With Pineapple and Jalapeno Chilies
teresas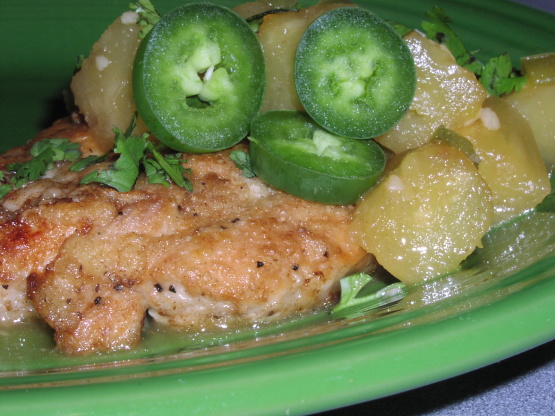 This was in an AP article published in the local newspaper.

We loved this dish! It's easy to prepare and the flavor is wonderful. I kept the chicken hot in a 225 degree oven. The only negative was that the sauce never did thicken so I would suggest increasing the cornstarch to 3/4 tsp or maybe even a bit more. I did double the jalapeno because we enjoy our food hot and spicy (but it really wasn't). I think the sweetness of the pineapple decreased the heat of the pepper. FYI. Oh!, I also used canned pineapple. This is a keeper. Thanks for posting. :)
Arrange chicken breasts in a single layer on a work surface and cover with plastic wrap. Using a heavy skillet or a rolling pin, pound them until flattened to about 1/2 inch thick.
In a shallow dish, combine the flour, salt and pepper. Dredge both sides of each breast in the seasoned flour.
In a large nonstick skillet over medium-high, heat the oil and butter. Add the chicken breasts and cook until they are well browned on both sides and no longer pink at the center, about 4 minutes per side. Transfer them to a plate and cover with foil to keep warm. Do not clean the skillet.
While the chicken breasts are cooking, drain the juice from the pineapple into a measuring cup. Add enough orange juice to total 3/4 cup. Stir in the cornstarch, then set aside.
Return the skillet to the stove over medium-low. Add the drained pineapple and brown sugar. Cook, stirring constantly, until the pineapple begins to brown, 3 to 4 minutes. Add the chilies and garlic and stir until the garlic is beginning to color, 1 to 2 minutes.
Stir in the reserved juice. Bring the sauce to a simmer and cook until thickened and reduced slightly, 4 to 5 minutes. Stir in the cilantro, then serve, spooned over the chicken breasts.