Sauteed Chicken Breasts With Almonds
Peter J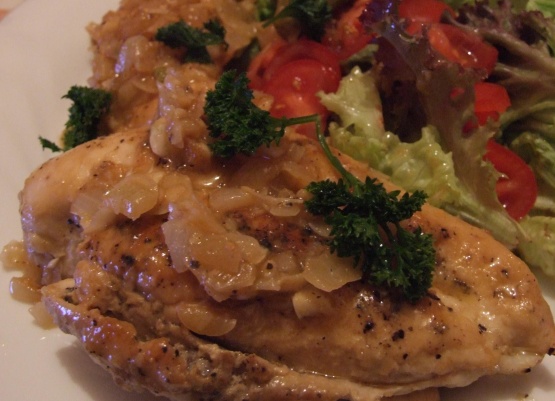 This is a very good recipe that keeps the chicken moist and tasty!

This was great! I used very large chicken breasts and was in two minds whether to slice them in half or not to make sure they cooked through properly. I'm glad I didn't - the method left them cooked perfectly and super-succulent. Rather than chop the parsley I just served with a few sprigs on top.
Mix the flour with salt and pepper and dust the chicken breasts with it.
Heat half the butter in a heavy pan.
Brown the chicken breasts very slowly on both sides.
Add the lemon juice, and season with the salt and pepper.
Cover the pan and sauté gently, over low heat, until the chicken is tender, 10 to 15 minutes.
Remove the chicken from pan.
Add 2 tablespoons of butter to pan, put first the almonds and brown over low heat.
Add onion and garlic, cook for one minute.
Stir in the wine with the rest of butter.
Return the chicken to pan and reheat.
Put breasts in serving dish and spoon almonds and sauce over chicken.
Sprinkle with chopped parsley.