Sauteed Brussels Sprouts With Walnuts
Parsley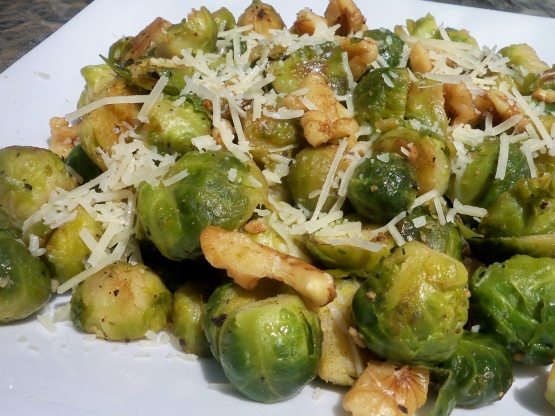 A healthy recipe from Chef MD (John La Puma, MD). Recipe published as Diabetic friendly in Walgreen's Diabetes and You. Sounds wonderful. They recommend serving this as a healthy holiday dish. States dietary exchanges are 2 vegetables, 1 lean meat and 2 fats.
Trim off stem ends and thinly slice sprouts crosswise.
Heat oil in a large nonstick skillet or saute pan over medium heat.
Add sprouts, garlic, salt, nutmeg and pepper. Saute 2 minutes.
Add broth one tablespoon at a time and continue to cook until sprouts are crisp-tender (will take approx 8 minutes).
Stir in walnuts and transfer to a serving dish and top with cheese.