Sauteed Brussels Sprouts With Lemon and Pistachios
BarbryT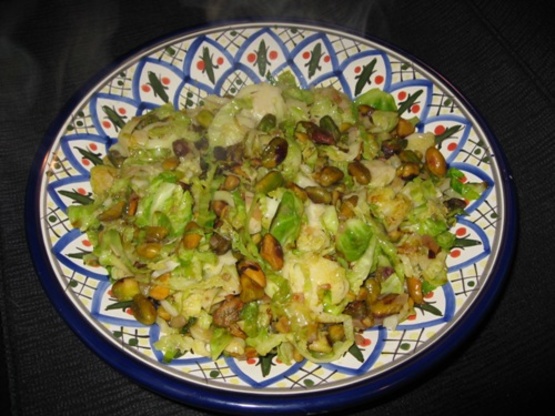 Source: Bon Appétit magazine, February 2008 issue

I hate giving only three stars, but I just didn't like this as much as I had thought/hoped I would. Which is not to say I won't try it again with some adjustments--because I like all the ingredients, A LOT. I'll reduce the amount of lemon juice by at least half--probably more--and will toast the pistachios first, tossing them in at the very last minute so they will be crisp.
Heat oil in large nonstick skillet over medium-high heat.
Add shallot and stir 20 seconds.
Add Brussels sprout leaves and pistachios, and sauté until leaves begin to soften but are still bright green, about 3 minutes.
Drizzle lemon juice over.
Season to taste with salt and pepper.
Transfer to bowl and serve.