JustJanS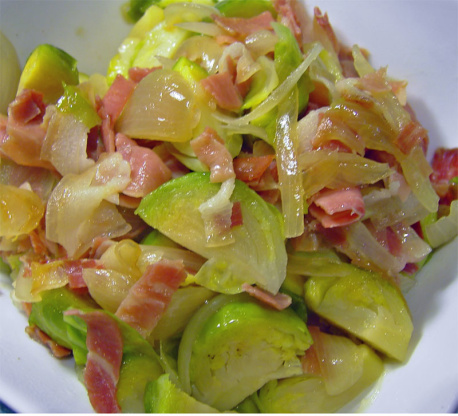 I served these to a room full of Brussels Sprout haters…. they were shocked that the side dish they were raving about was actually a food they thought they disliked! The majority of the preparation work comes in removing the core and pulling the Brussels sprout layers apart. This is well worth the effort, as the tender leaves cook quickly and evenly to a beautiful bright green color, lightly glazed with olive oil and bits of crisp pancetta.

Not sure I really should review this, since I didn't use pancetta and didn't cut the cores out of the Brussels but it was so good I had to review it. Even with no pancetta and leaving the cores in the Brussels it came out wonderful. I did cook the Brussels in olive oil with the onions before I added the water and sautéed them. Thanks so much for sharing.
Slice each Brussels Sprout in half and remove the core; gently pull the layers of leaves apart.
Heat a large sauté pan and add the Olive Oil and Pancetta; render the fat from the Pancetta, until it is lightly crispy; remove Pancetta and reserve.
Add the Onions and cook until translucent, about 5 minutes; add Butter and swirl to melt; add Brussels Sprouts and 2 tablespoons of Water.
Sauté over medium eat, tossing to coat; cook until leaves are tender and bright green, about 6-98 minutes; season to taste with Salt and freshly ground Black Pepper; fold in the reserved Pancetta and serve immediately.