Sauteed Beef Liver With Onions & Peppers
M M.9975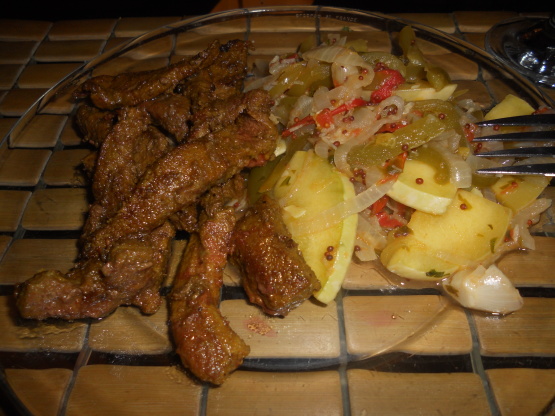 The secret to tender liver is to remove as much membrane as possible and to not overcook it (it should still be pink inside).

Liver is great stuff, but it can be tricky to cook. Cooked too much or too little it is extremely tough and gummy to the point of near inedibility. If you use frozen slices of liver, leave them just a little frozen and they will be easier to work with, fully thawed they tend to fall apart.
Remove all visible membranes from liver.
Slice liver into thin strips.
Set aside.
In a heavy frying pan, heat one tbsp of the oil on medium, saute onions and red pepper for about 5 minutes.
Remove from pan and keep warm.
Combine flour and herbs.
Dredge liver in flour mixture.
Heat remaining oil in same frying pan on medium-high.
Saute liver slices quickly for about 3 minutes or until brown on the outside but still pink inside.
DO NOT OVERCOOK.
Add cooked vegetables to pan.
Stir to combine.
Serve immediately.