Sauteed Beans and Pearl Onions
Bergy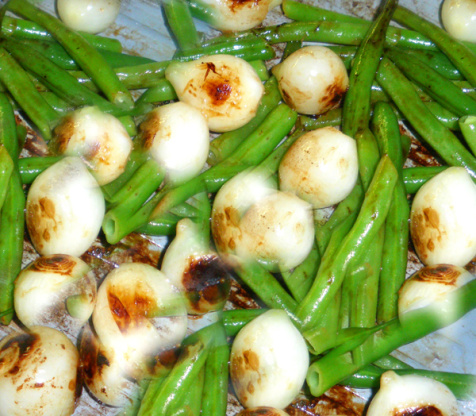 This is a fantastic veggie side dish.... wonderfu along a turkey, ham or roast. I always make this when I have a dinner party, it looks so impressive... Make sure that you don't over blanch the beans, as they will become soft when frying. Also, to save time, the beans can be prepared a day ahead, just wrap in a towel, enclose in plastic bag, and refrigerate for up to 24 hours.
2

lbs green beans, trimmed

2

(284 g) packages white pearl onions

2

tablespoons vegetable oil

2

cloves fresh minced garlic

2

tablespoons lemon juice
salt and pepper
Fill a large bowl with ice water; set aside.
In a pot of boiling salted water, cook green beans, in 2 batches until firm-tender (about 3 minutes).
With tongs, transfer to ice water, stir until beans are very cold.
Remove immediately; pat dry.
Place the pearl onions in a bowl.
Cover with boiling water; let stand for 1 minute; drain and peel.
In a large Dutch oven, heat oil over med-high heat.
Fry onions until golden in places (about 8 minutes).
Add 2/3 cup water and garlic; cover, and simmer until onions are tender, and almost no liquid remains (about 10 minutes).
Add beans, lemon juice, salt and pepper, tossing until beans are hot (about 5 minutes).
Transfer to a serving platter.
Note: If desired, drizzle melted butter on top of bean/onion platter before serving.