Sauteed Bananas With Caramel Sauce
Rita1652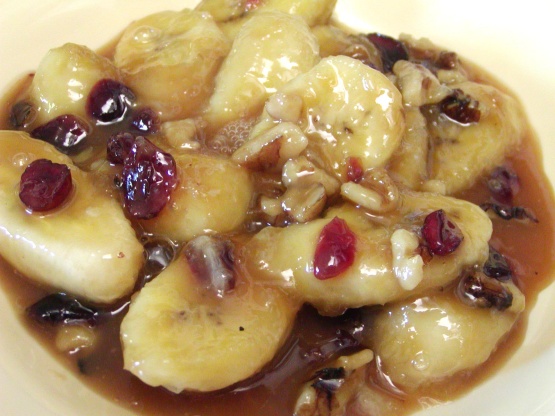 This is a rich ending to a perfect meal. If you want a non-alcoholic version, use apple juice for the dark rum.

A truly fabulous recipe: loved the great blend of flavours and the fact that this recipe was relatively low in fat. We eat a lot of bananas and this is certainly a recipe which turns them into an exotic dish where one savours every spoonful. I particularly liked the inclusion of the walnuts. We enjoyed these yummy bananas with several generous dollops of creamy Greek yoghurt. Thank you so much for sharing this recipe, Paula! :) Made for Ali Baba's Babes for ZWT 5.
In a small saucepan, melt the butter over medium high.
Stir in 1 tablespon peanut oil, honey and brown sugar, stir until sugar is dissolved, about 3 minutes.
Sit in milk, 1 tablespoon at a time.
Stir and cook until the sauce thickens slightly, about 3 minutes.
Remove sauce from heat and stir in raisins and chopped walnuts.
Set aside and keep warm.
Peel the bananas, cut each crosswise into 3 sections and then cut each section in half lengthwise.
Add the additional 1/2 teaspoon peanut oil to a nonstick frying pan and place over medium-high heat.
Add the cut bananas and saute until they begin to brown, 3 to 4 minutes each side turning once.
Transfer to individual serving plates.
Pour the rum into the pan, bring to a boil, and deglaze the pan.
Cook until rum is reduced by half.
Add the carmel sauce to the rum and warm.
Spoon warm sauce over the bananas and serve immediately.