Sauteed Baby Spinach and Garlic
ChefLee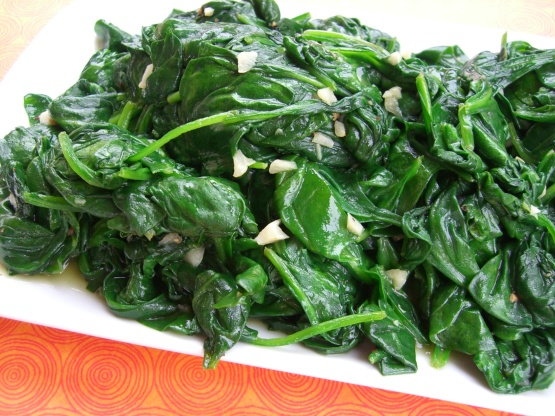 A terrific side dish or salad. My favorite way to eat spinach

I made as directed, and this was just perfect for two. I added some red pepper flakes for spice, but really it was wonderful as written. Thanks.
Heat oil In a large lidded sauce pan over a medium heat.
Add garlic and toss (or stir) until it just starts to turn color.
Remove from heat and IMMEDIATEY add spinach.
Toss with a set of tongs to coat the spinach with oil/garlic.
Salt to taste, some folks like it with a just a bit of fresh grated nutmeg.
Cover and let sit for a couple minutes, toss again and serve.
It should just be slightly warmed and retain it's crunch.