Sauteed Asparagus W/ Bacon
tzisa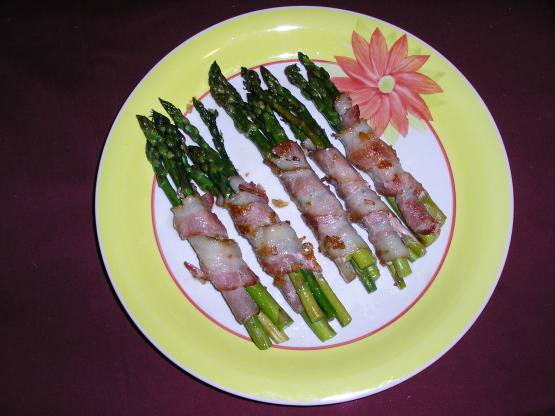 I saw a recipe similar to this while watching Iron Chef. This isn't the exact recipe used, but it's pretty close. Only one pan is used, so cleanup is minimal. Saute the garlic in oil for a minute or so before adding the asparagus if you like your garlic crunchy & toasty tasting. This is the only way I can get my picky husband to eat asparagus.
Cut tough ends off asparagus.
Bundle together 3-4 asparagus stalks & wrap, bottom to top, with a slice or two of bacon.
Tuck loose bacon end between asparagus stalks to secure.
Repeat with the rest of the asparagus.
Heat Olive Oil in skillet over medium heat.
Add chopped garlic & asparagus bundles to skillet.
Saute 5-10 minutes, turning occasionally, until asparagus is tender & bacon is cooked.