Sauted Fish Fillets With Sliced Garlic and Butter Sauce
2Bleu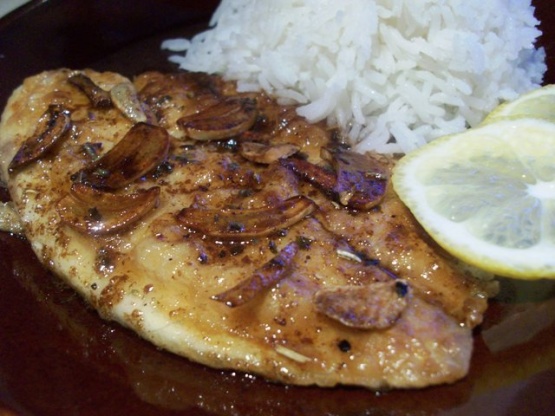 Although this recipe was created for fresh caught large-mouth bass, any fish fillets will work great. Intended for the campsite, you can cook it on the stove as well. Very adaptable recipe.

What I liked most about this recipe was how quick and easy it was to make without sacrificing the sophistication of taste. I skipped the step with dredging the fish in flour, but it was still pretty good. My husband doesn't comment unless it's really good, so this time he did. The taste of this fish seems versatile so serving it with pasta or rice or a side of vegetables did not clash.
4

fish fillets, skin removed (flounder, tilapia, cod, or bass)
1⁄2 cup flour

2

tablespoons olive oil

2

tablespoons white wine

6

tablespoons butter

4 -6

garlic cloves, sliced thin

2

tablespoons italian seasoning (or use fresh herbs)
1⁄2 lemon, juice of (slice the other half of the lemon for garnish)
Season the fillets with salt and pepper. Heat a saute pan on top of the grill, firepit, or stove over med high heat.
When the pan is hot add the olive oil and heat. Dredge the bass fillets in the flour and shake off any excess.
Place the fillets in the pan and pan fry about 3 minutes per side, until golden brown. Remove the fish from the pan. Reduce to a medium/med-low heat (move away from coals if cooking outdoors). De-glaze the pan with the wine and then add the butter.
When the butter is melted, add the sliced garlic. Fry for about a minute just until the garlic begins to turn light golden brown.
Add the herbs and remove from the heat. Carefully, add the lemon juice. Season with salt and pepper. To serve, place a fillet on a plate and spoon some of the lemon garlic herb butter over the fish. Garnish with lemon slices.