Saute Spinach with Garlic
Bergy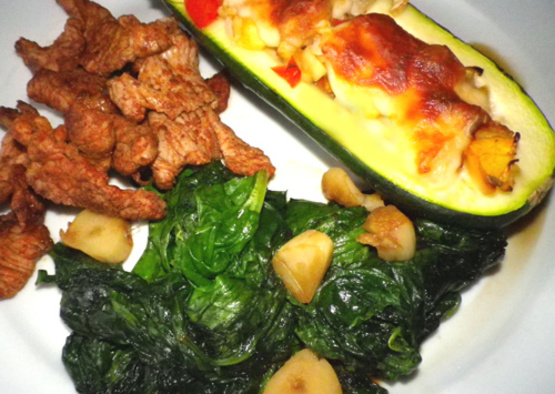 Recipe from Martha Stewart. I am not an avid Martha fan, but this spinach dish is fragrant with garlic, but without the fat, and easy. I think it's better than spinach salad because you don't even have to dry them and comparing with with the calories you get with salad dressing, this "sauted" spinach is practically calorie-free!
2

tablespoons olive oil

4

cloves garlic, sliced thinly lenthwise

2

lbs fresh spinach, washed and leaves damp
salt & freshly ground black pepper
cooking spray
In a large sauté pan, heat olive oil over medium heat.
Add garlic, and cook until golden brown, 2 to 3 minutes.
Using a slotted spoon, transfer garlic to paper towels; reserve.
Discard oil.
Spray pan with cooking spray, and heat over medium heat.
Coarsely chop spinach and stalks.
Working in batches, add damp spinach to the pan.
Cover, and cook until spinach just begins to wilt, 4 to 5 minutes.
Transfer the cooked spinach to a metal bowl, and cook remaining spinach.
Season with salt and pepper.
Sprinkle reserved garlic over spinach, and serve warm.