SAUTE OF GARLIC SCAPES & GREEN BEANS
Lois M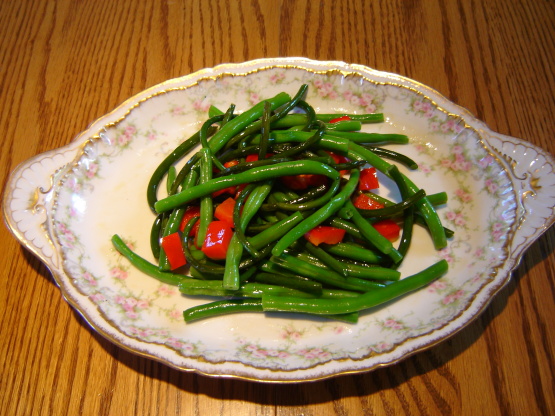 While the red pepper adds colour, the beans & scapes are look alikes that fill this dish with taste surprises! Serve with sauteed or grilled poultry or meat.

I had saved this recipe when I got garlic scapes from my CSA box and finally got fresh beans. This turned out quite good. I did add spring onions and didn't have the red pepper. I am not a big fan of balsamaic vinegar, so I sprinkled it on and let it cook, uncovered a little while longer, and that turned out fine. Will save this for next year's garlic scapes.
Top& tail green beans.
Bring a large pot of salted water to a boil; add beans& blanch for 2 – 3 minutes or until crisp-tender.
Drain& refresh with cold water until beans are cold.
Trim garlic scapes& remove any seed pods.
Cut into pieces about the same length as the beans.
Blanch for 1 – 2 minutes; drain& refresh with cold water.
Heat oil in skillet on medium heat; add scapes& saute for 2 minutes.
Add beans& red peppers.
Toss together, cover skillet& cook for 2 minutes longer or until scapes are crisp-tender.
Uncover& season with salt, pepper& balsamic vinegar.