Sautéed Spinach and Mushrooms
jenne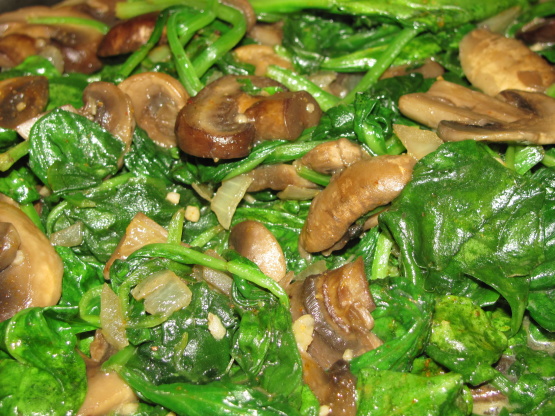 This is a great side to any meat course. All the juices run together in a perfect combination. Just wonderful.

This was excellent. One thing I did to lower the calories was to cook the bacon first, separately, and drain the grease. Then I sauteed the onions and garlic in EVOO. Then I added the mushrooms, spinach and finally the bacon. Next time I will substitute water for half the EVOO, and only if it needs it, but I found that the mushrooms probably produced as much extra liquid as would have been required. We included all the bacon since this was to be the basis for our main dish, but if I were making it for a side dish, half the bacon would have been plenty.
Coat skillet with the oil.
Add mushrooms, onion, bacon and garlic.
Sauté for about 6 min over medium heat.
Add spinach and sauté until wilted.
Salt and pepper to taste.
Serve and enjoy.