Sautéed Mushrooms With Red Wine
Parsley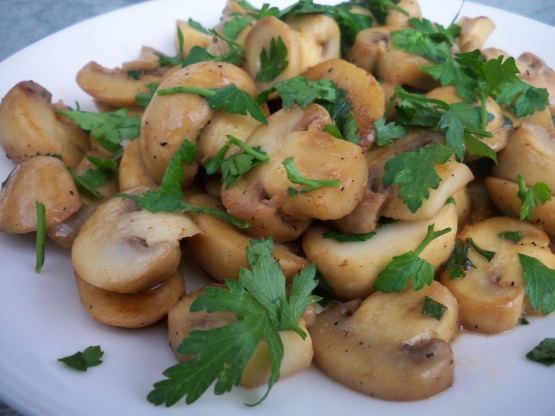 Excellent served as a side dish with steak, roast beef or even chicken. The lemon gives the mushrooms a nice tangy flavour which mixes well with the flavour of the red wine.

My family and I love sauteed mushrooms but usually prepare ours with white wine. I really liked the use of red-wine in your recipe. Has a richer, more full-bodied flavor. I used fresh-squeezed lemon juice which gave the flavor a nice zing. This went perfectly with our grilled steaks. Thanks so much for a great recipe.
Melt butter in large frying pan.
Add sliced mushrooms and sauté over high heat until they squeak and sizzle and are nicely browned.
Add salt, pepper and red wine.
Simmer for 5 minutes.
Add lemon juice and parsley.
Toss well.