Sausages Braised in White Wine
Jen T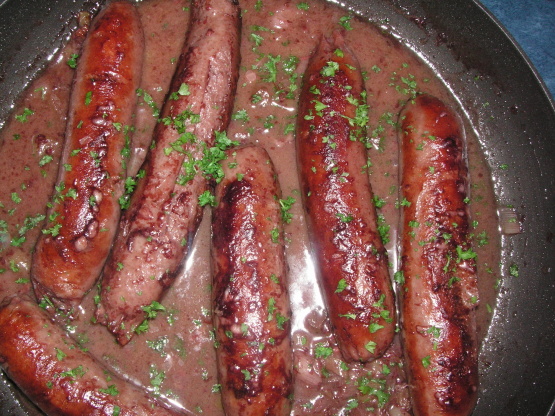 This is great served over lentils or rice for a simple but filling meal.

Top Review by Jen T
My husband loves sausages and so this was a real bonus to find this recipe and having all the ingredients on hand. I used lamb sausages & used white wine and served with minted boiled potatoes and a mix of cauliflower, broccoli and carrots steamed. A real 'keeper' in this house :) Update: The second time I made this I used red wine and beef sausages. Both make for a great dish. :)
Butter a heavy, heatproof dish.
Place the sausages in the pan with the oil and set over a medium heat.
Brown them on all sides very lightly.
Scatter over the shallots and cook for a minute or so, then add all the other ingredients except the parsley.
Cover and simmer for 15 minutes till the sausages are tight and tender.
Check from time to time that the liquid has not completely evaporated- there should be just enough left to make a bit of a sauce with.
Lift out the sausages, drop in a large knob of cold butter and stir in till the sauce thickens.
Scatter parsley and serve hot.