Sausage & Tortellini Soup
lazyme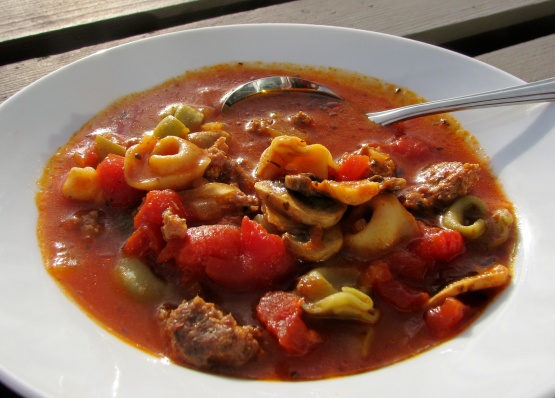 I wanted to make some soup on a cold day, but was tired of plain tomato or vegetable soup. So I played around with a few ingredients and came up with this. Hope you like it. I know I do. Oh and feel free to use some diced onion instead of the minced, but my dh can't handle fresh onion so i have to use the other. Sometimes i'll throw in some chopped cabbage too.
In a large pot, brown the sausage over medium-high heat with minced garlic and minced onion.
Pour in the chicken broth and use a wooden spoon to get up all the brown bits from the bottom of the pan.
Add in diced tomatoes, tomato sauce, Italian seasoning, pepper, and mushrooms.
Reduce heat to low/medium low and let simmer for at least 30 minutes, but the longer you let it cook, the better flavor it will have.
Add the tortellini and let cook through, about 10 minutes (I use frozen tortellini so it takes longer, but would be shorter if you use fresh or refrigerated).
Serve and enjoy.