Sausage, Tomato, Macaroni and Cheese Casserole
Parsley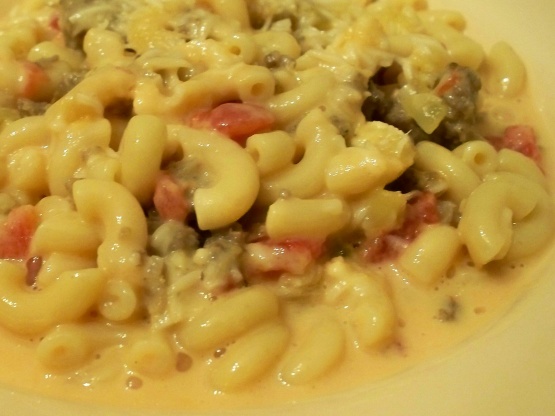 I love Mac and Cheese with tomatoes. Using Rotel tomatoes adds a touch of heat and the sausage enriches the other ingredients.

How could I not give five stars to this hearty and inexpensive meal? I used grated cheddar cheese, instead of processed cheese, but otherwise made no substitutions and it was wonderful. My favourite part was the nice crusty topping that the parmesan forms when you bake this in the oven. Thanks for sharing!
Preheat oven to 350°F.
Grease a 2 quart shallow casserole.
Heat water for the macaroni.
Brown sausage in a large skillet, breaking up the sausage with the side of a spoon as it cooks.
Pour into a colander to drain.
Add the milk and processed cheese to the skillet, cook and stir over low heat until the cheese is melted.
Stir in the sausage and tomatoes and remove from the heat.
Cook the macaroni according to package directions while making the sauce, drain and mix into the sausage, cheese, tomato mixture.
Spoon into the prepared casserole, top with grated cheese and bake 25-30 minutes.
Let stand 5-10 minutes before serving.