Rita1652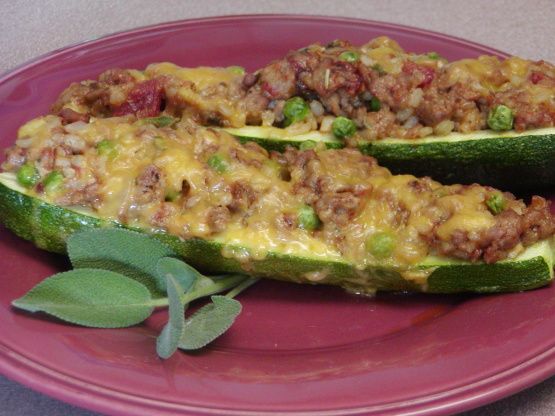 You Can slice after cooked for appetizers. Serve as a side dish. Or just make a meal out of it with a green salad. For vegetarians, skip the sausage and use vegetable stock instead of chicken stock.

We skipped the sausage to use it for the veggie with our roast for dinner tonight. I only used one large zucchini, for just the two of us and cut the rest of the recipe in half, it worked quite nicely. It was good but not as spicy tasty as we thought it would be; the cheesey crusty part was the saving grace, but it was a good way to serve zucchini. Good luck in the contest!
In a greased casserole dish lay oiled zucchini cut side up.
In a skillet on medium high heat, heat oil then saute red peppers, onion, garlic, celery, and butternut till translucent.
Add sausage, corn, raisins, spices, tomato sauce and bulgur wheat.
Adjust seasoning to taste.
Mound filling onto zucchini halves, top with cheese and pine nuts.
Pour wine and stock in bottom of pan.
Bake 30 minutes at 350°F.