Sausage Stuffed Mushrooms
Catnip46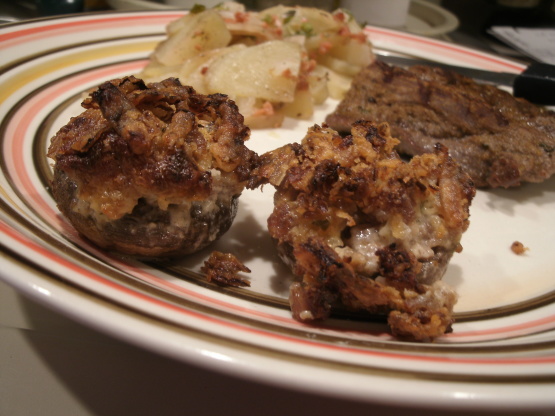 I had two large mushrooms left and was hungry for stuffed mushrooms but didn't have all of the ingredients for two of the recipes I was interested in. So I used what I had on hand and they turned out extremely good. Since I was only making two I guessed at the measurements so the measurements I have put down are only estimates but I would say are pretty close to what I used. Add more or less to your judgement. You could also use finely cut shrimp or imitation crab meat instead of the sausage but the pork sausage was really good.
Fry pork sausage with the onions until pork is done (do not leave in large pieces)
Remove from fry pan and let cool.
When cool add cream cheese, Parmesan, salt & pepper and dried parsley if using. Also finely cut up the stems from mushrooms and add.
Stuff mushrooms with the stuffing.
Carefully dip tops of mushrooms into crushed French Fried Onions or just press them on top of mushroom stuffing. Put mushrooms in muffin tin.
Bake at 400 for about 20-25 minute until topping is brown and crunching. You made need to cover mushrooms for the first 15 minute.
When done remove from tins and let sit for 5-10 minute.