Sausage-Stuffed Mushrooms
Kim127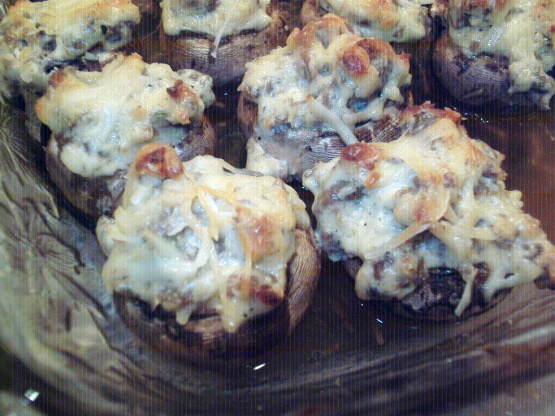 These are a hit at my annual New Year's Eve Party. Don't forget to add the wine, it adds such great flavor. The recipe was posted in Bon Appetit a number of years ago. These can be assembled the day before and baked right before serving.

These were delicious. I made them for Thanksgiving and everyone raved about them. I made exactly as written and wouldn't change a thing. I had enough filling for about 30 mushrooms. Make sure the cream cheese is nice and soft, otherwise it can be a little hard to mix in.
Thanks so much for a great recipe!
Sauté sausage, oregano and basil in heavy large skillet over medium-high heat until sausage is cooked through and brown, breaking into small pieces with back of fork, about 7 minutes.
Using slotted spoon, transfer sausage mixture to large bowl and cool.
Mix in 1/2 cup Parmesan cheese, Worcestershire sauce, and garlic powder, then cream cheese.
Season filling with salt and pepper; mix in egg yolks.
Brush 15x10x2-inch glass baking dish with olive oil to coat.
Brush cavity of each mushroom cap with white wine; fill with scant 1 tablespoon filling and sprinkle with some of remaining 1/2 cup Parmesan cheese.
Arrange mushrooms, filling side up, in prepared dish. (Can be made 1 day ahead. Cover and chill.).
Preheat oven to 350°F.
Bake uncovered until mushrooms are tender and filling is brown on top, about 25 minutes.