Sausage-stuffed Jalapenos
Ms B.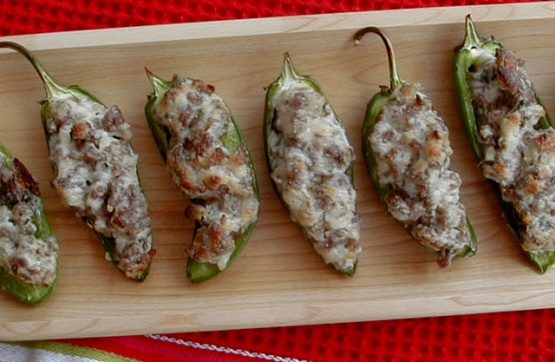 These are easy and tasty and have just enough kick for me, though I admit I like food pretty darn spicy. Be careful that you don't touch your face while handling hot peppers...you may want to use plastic gloves to protect your hands.

I used 1 lb. of sausage with 16 oz of cream cheese and two cups of parmesan cheese. It worked out well. My friends raved about them. But, they are not fond of really spicy food, so I find these to be very mild. Some in my family like their food HOT and SPICY, so for those folks I think I would use HOT sausage or leave some jalapeno seeds in, or add red pepper flakes to the mixture like other people suggested. I have to give it two stars because the original recipe has too much meat in it for my taste but I would give it five stars for innovation and something to build on and tweak. I would never dip these things into ranch dressing. Just eat ranch dressing plain if you like it so much.
In a large skillet, cook the sausage over medium heat until no longer pink; drain.
Combine the cream cheese and Parmesan cheese, then fold into the sausage.
Spoon about 1 tablespoonful into each jalapeno half; place in two 9x13x2 inch baking dishes and bake, uncovered, at 425° for about 15-20 minutes, or till filling is lightly browned and bubbly.
Serve with Ranch dressing if desired.