Sausage, Sauerkraut & Apples
Bergy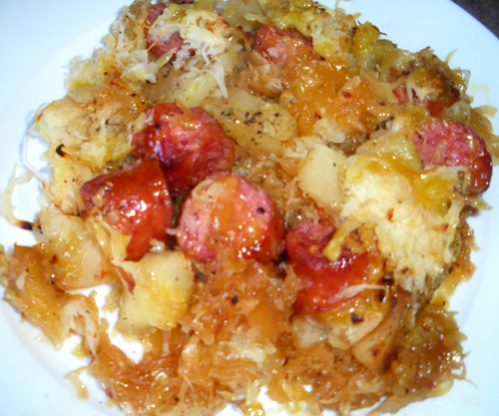 This type of dish is new to me, but since trying this recipe and other similar ones I have decided I like it. This recipe particular is really good. The apples and brown sugar add a nice sweetness. I think rasin bread would be good to dip in the juices. This time though I just dished up a serving of the recipe and ate as is. Also, I used turkey smoked sausage and found the dish savory and not "diet tasting". Thanks for a tasty and easy to prepare dinner.
Rinse sauerkraut and squeeze dry.
Cut sausage into 2-inch pieces.
Put 1/2 the sauerkraut in the slow cooker.
Add the sausage pieces on top.
Continue to layer remaining ingredients in slow cooker in the order listed.
Top with remaining sauerkraut.
Do not stir the layers.
Cover.
Cook on high 4 hours, or low 6-7 hours.
Stir before serving.