Sausage Rolls - Cheese Pufs
katia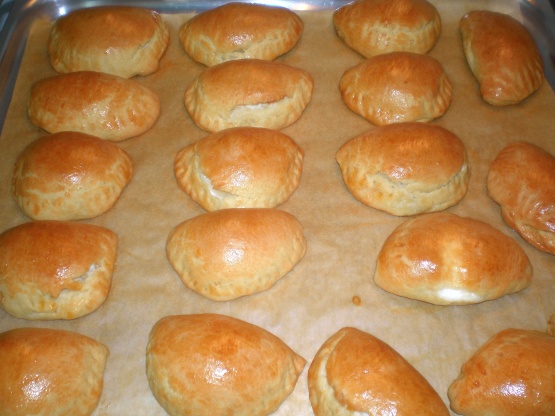 Those are called "tiropitakia kourou" in Greek. My mother used to made these in every party that we had as kids. Growing up we made these for our picnic's and other trips by car or boat! Also they can be kept in the freezer and bake them later. The dough is the best part and it can be filled with almost everything that you like ham, bacon, cheese, minced beef, peppers...!

EXCELLENT!!! I made these for an after school snack for my kids and they LOVED them!!! I got about 40 pieces. I made using feta mixture and lil' hot dogs. Since I didn't have Self-rising Flour on hand, I added 3 TSP Baking Powder and 1 TSP Salt to Flour and worked perfectly!. I used a 2 inch diameter cup to cut out dough... One thing to make sure~~Don't overstuff as filling will spillout! I cannot stress this enough! Only change I did was beat an egg at end and brushed on for a shiney finish and sealed WELL pinching along sides. I baked at 350 degrees F for approx.30-40 minutes MAX. KATIA THANKS FOR A GREAT RECOMMENDATION !!!
For the dough.
Mix the margarine, the flour and the sour cream. Knead the dough for 4 minutes.
Roll the dough into a big circle and cut into small ones, by using a mug. Continue until all the dough is finished.
Fill half of the little circles with sausages and the others with cheese.
For the ham rolls, place one sausage at the middle of the circle and pinch the edges.
For the cheese filling. Mix the egg with the feta cheese and a little pepper. This should be done at the last minute before filling or else it gets "soggy". Put into the circles one spoon of the filling and pinch the edges.
Bake in preheated oven at 350°F for 40 minutes until done.