Pneuma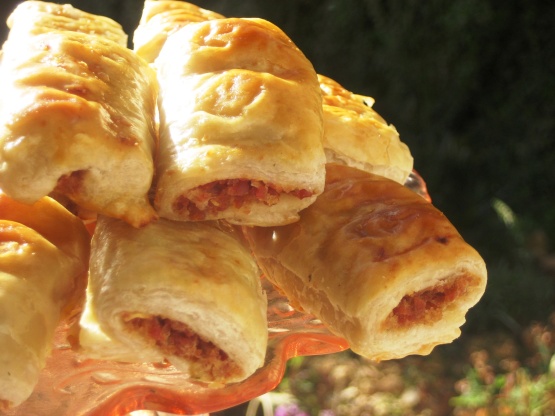 A really popular Aussie snack which turns up at parties, picnics and for lunches. I used to make 8 dozen of these 5 days a week for about 2 years! Season these to taste-Australian sausage mince is quite salty, so I don't put too much.

Great easy recipe, very tasty sausage rolls, I also added carrot.
Pre-heat your oven to 220c.
Lay all the sheets of pastry out on your counter top.
In Australia, this pastry comes interleaved with plastic, which I still leave on at this stage.
Mix together the meat, breadcrumbs, onion, parsley, milk and salt and pepper.
The mixture will be quite sloppy-this keeps the sausage rolls moist.
Whisk the egg and 2 tablespoons of milk together in a small bowl.
Fill a large piping bag (no nozzle) with the mix and squeeze out a long line of mix down the long edge of the pastry-about 1/2 an inch in from that edge.
Roll up, peeling the plastic away as you roll.
Seal the inner edge with a little of the egg mix.
Cut each of these rolls in half.
I like to make an indent with a sharp knife in the middle of each of these smaller rolls to make them easier to eat.
Prick each roll a couple of times with a fork.
Repeat this until all the pastry and mix is used.
Brush the tops of the rolls with the egg mix.
Place in the oven and cook for 5 minutes.
Reduce the heat to 200c and cook for a further 20 minutes.
Remove to a tray to cool a little before serving them with ketchup or (my favourite) BBQ sauce.