Sara 76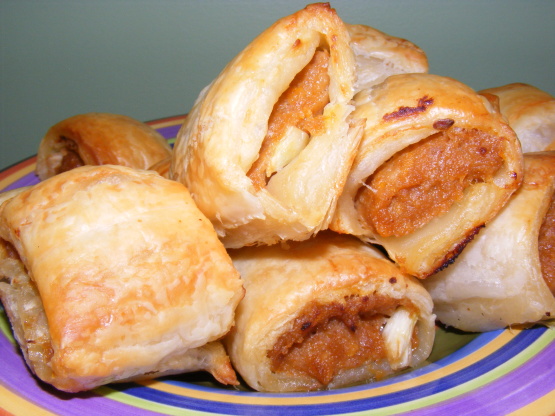 These sausage rolls are one of my biggest sellers at the markets, and my hubby just loves them! The measurements are approximate, as I don't use a recipe, so I had to guess. I suggest you use do the same, just using these quantities as a general guide :)

Top Review by M.Dot
I absolutely LOVE sausage rolls, but I hate buying them at the deli because they are rather expensive (and I honestly had no idea what goes into them) and I was certain I could make my own on the cheap that were just as delicious. This recipe is great! It's very easy, the results are outstanding (deli quality) and it is nice to be able to control the ingredients in your sausage rolls. I used mild italian sausage (will try beef and pork sausage next to see what I like best) and made full size rolls instead of cutting into 4, to serve for lunch or dinner. But I will cut these into 4 the next time I make as an appetizer dish. My BF was very impressed too and put a couple in his lunch bag for snacks on the ski hill. They refrigerate and freeze extremely well and are just as tasty straight out of the fridge for an afternoon snack. I would make these every day if I could - thanks for the recipe!
Mix all ingredients (apart from pastry & milk) together in a large bowl.
Cut each pastry sheet in half, and brush long edges with milk.
Spread meat mixture along pastry, roll, and cut into 4 pieces.
Brush with milk, and bake at 200C until golden brown, aprox 15 minutes.