Bergy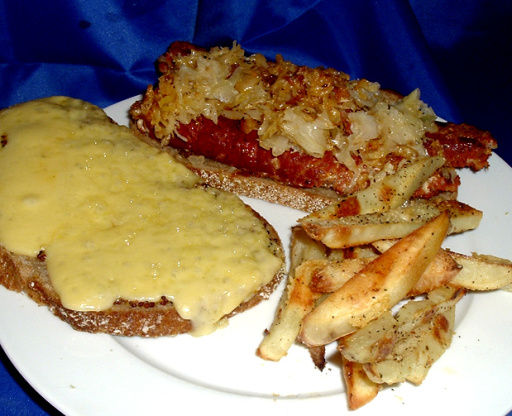 Reubens are my favorite deli sandwich. This is a variation on the theme using a spicy, smoked sausage in place of the pastrami or corned beef. Any quality cooked/smoked beef or pork link sausage will do the trick.

Top Review by Bergy
I may never go back to a regular Reuben after having this one! I used a portuguese Linguisse Hot smoked sausage and spicy full grain mustard, wine cured sauerkraut and Canadian Rye bread. I prepared it a bit differently - Squeezed the Kraut dry and heated it around the sausage. Put the cheese on one slice of the mustard coated Rye bread and placed it in the toaster oven until the cheese melted and the other slice of bread was lightly toasted - put it all together & I was in Reuben Heaven Thank's Pokey great idea
Cut sausage link down the middle and grill or pan fry until crisp along the edges.
Spread mustard on one side of both slices of bread.
Heat sauerkraut in sauce pan, then remove and squeeze off excess juices.
Assemble sandwich by placing one slice of cheese on first slice of bread (mustard side up), place link on next, then pile on warmed sauerkraut, finally top with second slice of cheese and second slice of bread (mustard side down).
Wrap in aluminum foil and place in preheated oven.
Bake for 15 minutes at 350 degrees until cheese is melted.
Remove, slice diagonally and serve with dill pickle and chips.
If you're going to make several sandwiches for a group, you can either wrap each individually (preferred) or place them in a shallow baking pan and cover the pan with foil.