Pam-I-Am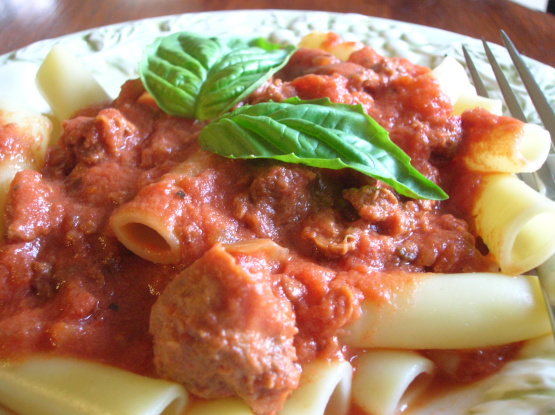 This recipe is from emeril live, its really good. It can be eaten with penne or with a cheese filled ravioli.

Delicous! Mine was a little runny but I think that's because it smelled too good for me to wait long enough for it to boil down too much. Yum!
Add sausage and cook, stirring, until brown and the fat is rendered, about 4 minutes.
Add the onions, garlic, crushed red pepper salt, basil, oregano and black pepper, and cook, stirring, until soft, 4 minutes. Add the tomatoes and their juices, tomato sauce, tomato paste, wine, cream, and sugar, and stir well.
Bring to a simmer and cook, uncovered, stirring occasionally, until thick and the flavors are blended, about 30 minutes, adding water as necessary to keep from getting too thick.