sfrunner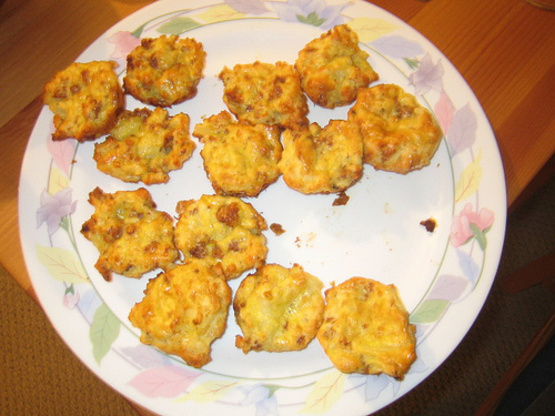 Tender potato puff appetizer from Food and Wine Magazine

I made this last night (cooked the potatoes & sausage the night before to decrease prep time) as an appetizer for a dinner party, following the directions almost exactly (I used some other little potatoes we had lying around the house, and some 4-cheese mix from Trader Joe's instead of straight parmesan). We filled ourselves up on these delicious puffs and didn't have room for the main course! I skipped out on the rosemary and it was soooo yummy. Next time, I would add a bit more cheese...can't wait to eat it again.
Preheat oven to 425 degrees.
Coat four 12 cup mini-muffin pans with vegetable oil cooking spray.
In a saucepan, simmer the potatoes in water over medium heat until tender, about 20 minutes. Let cool slightly, then peel and coarsely mash the potatoes.
Meanwhile, in a medium skillet, cook the sausage over high heat until browned, 8 minutes, drain and coarsely crumble.
In a medium saucepan, bring the water, butter, and salt to a boil. Remove from the heat and add the flour, stirring vigorously with a wooden spoon, until combined. Set the pan over moderately high heat and cook the dough, stirring, until it comes away from the sides of the pan, 2-3 minutes; remove from heat.
Using a handheld electric mixer, beat the dough at low speed for 1 minute. Beat in the eggs one at a time at medium speed; beat in the Gruyere cheese, Parmesan, thyme, rosemary, and a pinch of pepper. Stir inthe mashed potatoes and sausage.
Fill muffin cups with the dough. Brush the tops with the egg wash and bake for 20 minutes, or until puffed and golden. Let the puffs cool slightly, then serve hot.
Can be refrigerated over night; rewarm in a hot oven.