Sausage, Peppers, Onions Parmesan Sandwich
Rita1652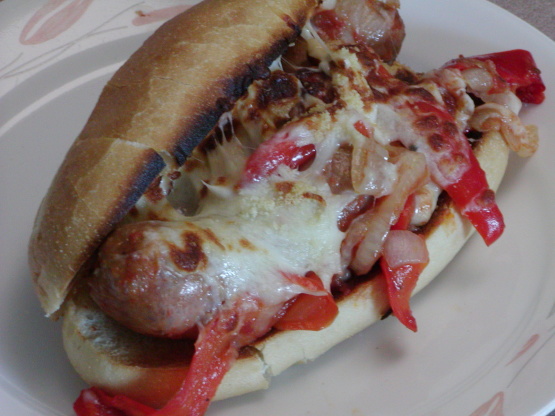 This is sweet and hot! I sometimes add a jalapeno for my husband. He's just a hot guy!

I loved this recipe! Nice change of pace when you're craving Italian but don't want to do pasta. I also adjusted the recipe a bit for my family of 4- cutting most ingredients to about 1/2 but I left the garlic, seasoning and cheese alone. Hot Italian sausage is the way to go for us. Gives it the kick it needs. YUM. Thanks for the recipe!
Place sausage in 350 degree oven and brown for 30 minutes.
Drain grease.
Add garlic, onions, peppers, crushes tomatoes and paste.
Stir in seasoning and bake covered for 30 minutes.
Uncover and bake 10 more minutes.
Toast rolls fill with sausage, peppers and onions.
Top with 2 cups of mozzarella cheese and sprinkle parmesan cheese.
Place under broiler till bubble and lightly browned.