Sausage Pepper Muffins (Oamc)
Annacia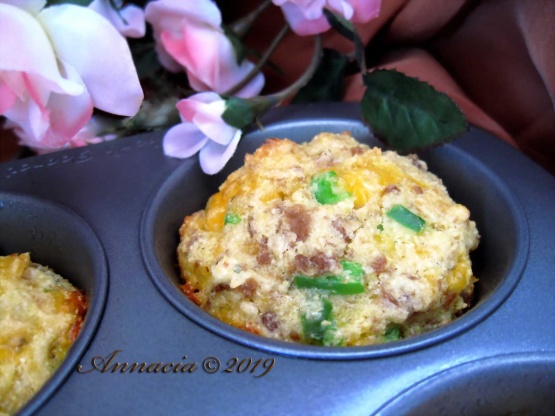 This is my variation of Sausage Breakfast Muffins (OAMC). I am one who likes lots of "stuff" in my breakfast muffins, but the above is a great base. You can halve or double the recipe easily.

I made a half batch and wasn't too pleased with the outcome of these muffins. The main problem that I had with them is that I found that I could taste the cornmeal. If it wasn't for the cornmeal taste I think I would have given these a higher rating.

I doubt that I will try this recipe again.
Preheat oven to 375°F.
Combine Bisquick, cornmeal, eggs and milk.
Add sausage and milk, mix well.
Add remaining ingredients and mix well.
Grease muffin pans with cooking spray.
Do not use liners as the muffins will stick.
Fill muffin cups almost to the top.
Bake regular sized muffins for 15-18 mins.
Bake mini muffins 9-12 minutes.