Sausage, Pasta & Bean Soup
Kim127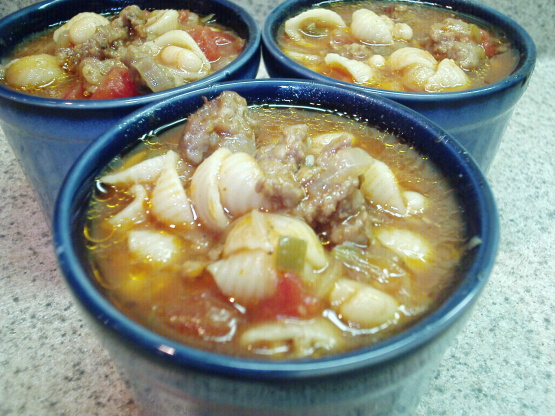 I made up this recipe and hope you like it as much as we did. I used a spicy cajun andoulle sausage but you could use your favorite.

Delicious soup! My family enjoyed this last night with grilled cheese sandwiches. My son (7 yrs.) kept saying over and over how good the soup was! I used a ring of Hillshire Farm smoked sausage, Great Northern white beans, and mini penne for the pasta. I added some extra spices-Emeril's Essence, a little sugar, 1 tsp. dried basil, crushed red pepper flakes and a bay leaf. I sauteed chopped carrots with the onion, garlic, bell pepper, as I can't seem to make a soup without carrots-lol! I chopped some yellow summer squash along with the zucchini, fresh minced parsley and I threw in some frozen cut green beans. I loved that you can cook the noodles right in the soup and there is still plenty of broth! I don't care for thicker soups , I love broth, so this was a perfect! A very easy and yummy recipe and it leaves alot of room to add or leave out whatever you want! This will be a definite do over-very economical too! Thanks for the recipe, Lunchmeat!
In large skillet, combine sausage, onion, garlic and bell pepper. Cook until sausage is browned and vegetables are tender.
Put into large soup pot and add remaining ingredients except pasta, beans and zucchini. Bring to a boil and simmer 30 minutes.
Add pasta, beans and zucchini and simmer another 20-25 minutes or until pasta is tender.