Sausage or Beef S. O. S. (Stuff on a Shingle)
CMOatie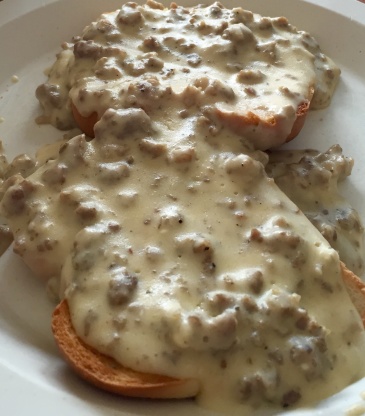 After 32 years in the military, I have become quite fond of S.O.S.. I'm the cook in our house, but I get breakfast cooked for me twice a year (my birthday and anniversary). My request is always the same--S.O.S. This is my wife's recipe--I love it.

Sautéed onions can be added as well...
Brown the ground beef or sausage, drain and set aside. Be sure to season the ground beef with a little salt and pepper.
Melt butter in sauce pan. Add flour and stir till butter/flour mixture is bubbly.
Add milk, salt, and pepper.
Stir constantly until thick and bubbly.
Add meat and stir.
Serve over whole wheat toast. Great over biscuits as well.
Note: For an evening meal substitute chipped beef.