NELady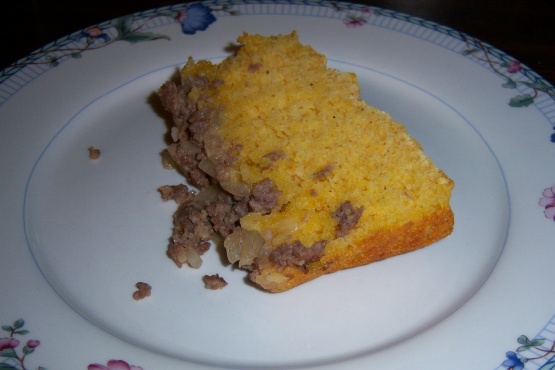 This dressed-up cornbread recipe is made with the addition of browned sausage and chopped onion, along with buttermilk or sour cream, cornmeal, egg, and other ingredients. The sausage and onions are browned in the skillet, the cornbread batter is poured over the mixture, and the skillet is moved to the oven to bake.

Top Review by NELady
This was pretty good. I transferred everything to a loaf pan (as I couldn't put my skillet into the oven) so my cornbread to sausage ratio was a little skewed (following the instructions would even this up - the way I did it, in the loaf pan, had too little sausage & too much cornbread each bite). But that was my fault! Other than that, the flavors really went together well. I will probably make this again (with an oven-proof skillet next time)! Made for Photo Tag, 2/7/09 - NELady.
Preheat oven to 350°.
In a medium bowl, combine cornmeal, flour, sugar, baking powder, salt, and soda.
Using a pastry blender or 2 knives, cut in the butter until mixture resembles coarse crumbs.
In another bowl, whisk together the egg and buttermilk until well blended.
Add to the cornmeal mixture and stir just until dry ingredients are thoroughly moistened.
Heat a 10-inch cast iron or heavy oven safe skillet over high heat; crumble sausage into it.
Brown sausage for about 2 minutes to render some of the fat.
Add the onion to the skillet.
Cook, stirring constantly, until sausage is browned and onion is tender.
Remove from heat.
Spread sausage and onion out to evenly cover bottom of skillet.
Spoon cornmeal batter evenly over the sausage and onion mixture and carefully spread out.
Bake for 25 to 30 minutes, until golden brown and firm.
Using a knife, carefully loosen around the edge of skillet then immediately invert onto a serving plate.
Cut into wedges. Serve hot.