lets.eat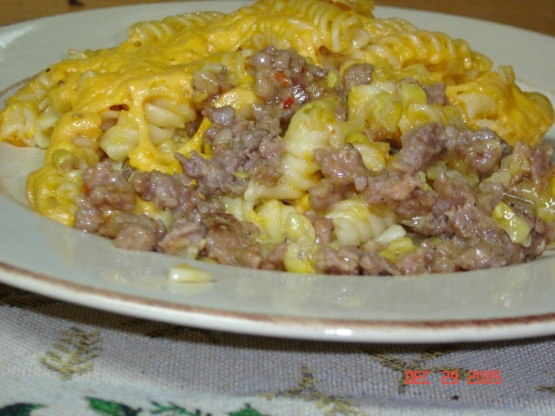 When I was working full time as a dental assistant I used to layer this ahead of time and just pop it in the oven when I got home. Got this from a church cookbook a wedding gift when my husband and I were married in 1986.
Top Review by Tahiti
My son chose this recipe and it was so good! Ok the instructions are a bit jumbled up so, he browned the sausage crumbling it up as he went along, then we sprayed a pan with non- stick spray, put in the cooked noodles, mixed in the sausage and creamed corn, used LOTS of salt and pepper and garlic powder and topped with white brick cheese, we baked it covered for 30 minutes then uncovered for about 10 to let the cheese brown a little. It was really very tasty! I would make it again, it is VERY kid friendly, he was very happy with his dinner and I enjoyed it also.
1

lb bulk hot sausage

8

ounces cooked egg noodles, medium or wide

1

(17 ounce) can cream-style corn

1

cup shredded cheddar cheese
Place sausage in bottom of 2-1/2 quart casserole. (pat in bottom)
Pour can of corn over.
Put COOKED Noodles over.
Put shredded cheese over all.
Cover.
Bake at 350' for 1 hour and 15 minutes.