Sausage 'n Hamburger Rounds
lucid501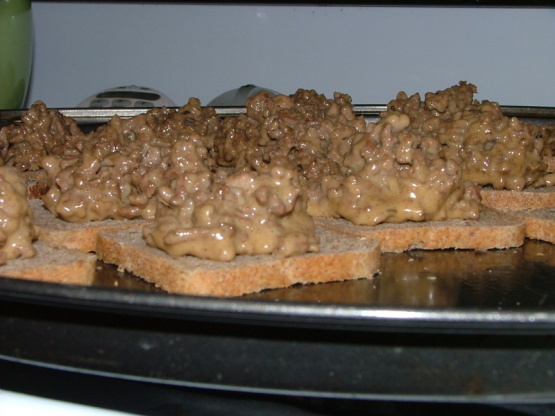 These are delicious! I have served them several times at pot lucks and friends' get togethers. They are so easy to make and so convenient to constantly have on hand. Yummy.

These are awesome. We know these as Polish Mistakes. We use about 1 1/2 - 2 tsp. of worcestershire sauce.
Line cookie sheets with wax paper or parchment paper.
Spread party rye slices onto the lined cookie sheets (Makes approximately 60 pieces).
Brown Ground Beef and Pork Sausage together.
While browning meat, cut up velveeta into chunks.
Drain grease thoroughly from meat mixture.
Add all other ingredients to the meat mixture and cook until the cheese melts, stirring as it cooks.
Remove from heat and drop mixture by spoonfuls onto the party rye slices.
Place cookie sheets into freezer and freeze the party rye rounds.
When frozen, remove from cookie sheets and slide into plastic bags returning to the freezer for later use.
When ready to use, take desired amount from the bag and place on cookie sheet under the broiler until brown and bubbly.
(Few minutes).
Enjoy.